Apr
16
Sun
Tonalis: Bring Music to Life – The Art of Song Interpretation

@ The Field Centre
Apr 16 @ 10:00 am – 5:00 pm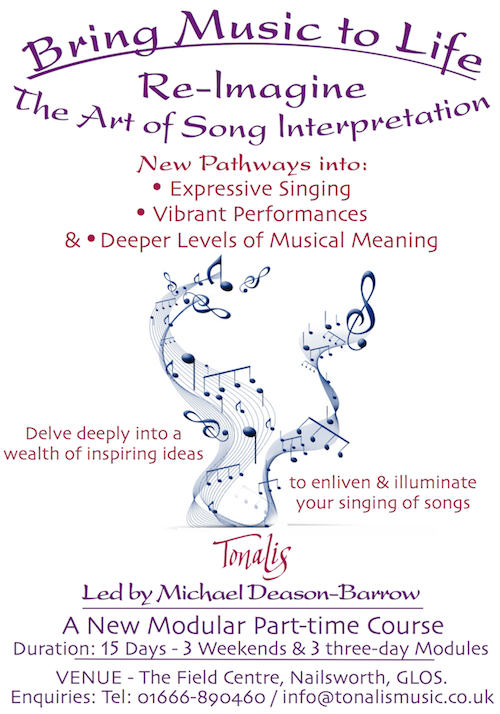 Re-Imagine!
This New Training course will help you to Sing Your Songs in ways that are filled with Imagination, Soul and Musicality
It offers you New Pathways to develop:
Expressive Singing,
Vibrant Performances,
and Deeper Levels of Musical Meaning
This is a modular, part-time course – to start Easter 2017 → Duration: 15 Days – 3 Weekends & 3 three-day Modules
For more details & to see the leaflet use this link.
Tuition Fees:
1 installment, £565
2 installments, £590 (i.e.2x £295)
3 installments, £615 (i.e.3x£205)
Discounted Fees = £20 deducted from the Fees for Early Booking by September 1st.
Work Scholarship Fee: £75 off the above fees.
Jul
9
Sun
SAVE THE DATE: The 17th Annual Summer Music Conference
SAVE-THE-DATE!
Our annual Waldorf music conference will be held July 9-14 in the Milwaukee, WI area. Our guest presenter will be Christiaan Boele, master teacher of Werbeck voice work. He conducts various master classes, courses and schooling of the voice sessions around the world. Students from over ten countries travel to Christiaan to study. In addition, he leads a touring ensemble of twelve singers and continues to perform as a soloist.
We will be working with the Werbeck exercises and how we can bring a healthy model of singing to our children and others. Both personal and pedagogical aspects of Werbeck singing will be covered, and the conference will include content in the Waldorf music pedagogy and curriculum, flute, lyre, Spatial Dynamics, and more.
More details to come!